A variety of cards for a variety of events
Need a card but don't want to get in a car?
Whether you want a birthday card or a card for a special occasion, individually hand crafted cards are available in Covington.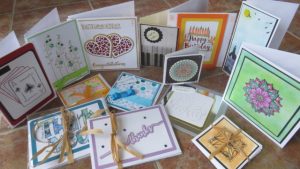 Birthdays to Weddings, Congratulations to New Home, With Sympathy to Get well - many ranges are available. Adaptations can often be made to personalise the design you choose. Gift packs of notelets and 'thank you cards' are also available - always useful for yourself or as gifts. Christmas cards are already available!
Carole has raised money previously for Alzheimer's Society and MacMillan. She has chosen to support Multiple Sclerosis society in 2021.
The cards are not priced individually despite the variety of complexity - just make a donation that you feel is fair. Every pound you donate will be passed to the MS Society. Please use the contact form below and I will quickly respond.
A date for your diary: 30th May 2021 is Multiple Sclerosis Day.
Contact Form  [contact-form to='caroleludford@gmail.com'][contact-field label='Name' type='name' required='1'/][contact-field label='Email' type='email' required='1'/][contact-field label='Comment' type='textarea' required='1'/][/contact-form]